I've been fascinated lately reading about forest baths. Doctors in Japan prescribe walking in forests for their patients to combat anxiety and depression. When I moved to Dancing Rabbit, I was struck by how good I felt, kind of like after going on a camping trip or a hike, but 24/7. There is more oxygen in the air when we are surrounded by greenery, but it goes beyond that. There is something that feeds the human spirit when we are surrounded by rustling leaves, changing, growing landscapes, flowers of different shapes and colors, birdsong, and bees humming. Liz here, with continued news of the past week at Dancing Rabbit.
Nature is right up close and personal here and one of the reasons I moved here. Before I moved here, I imagined getting up at dawn and sitting in the grass meditating while the sun rose. I quickly realized that sitting in the grass would be an open invitation for chiggers and ticks to jump on me and I nixed that idea. There are still a fair number of creatures that make their way into my cottage because I'm right on the edge of the prairie.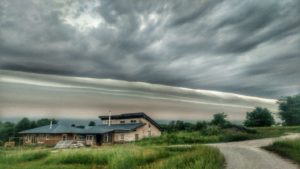 We finally got some real rain storms this week and a couple of days of cool temps and overcast skies. Graham and I took advantage of the break in the heat to plant more basil, tomatoes, parsley, and flowers in Cob's lower garden. As nice as it is to have some cool weather, it also means that everything is growing at a faster rate, changing daily, and that includes the weeds, so we continue pulling thistles, grass, and ragweed from the ground.
The week began with a birthday block party for Cob. Picnic tables were set up in the road outside of Thistledown, the grill was fired up and everyone brought a dish to share. I put a pork shoulder in the slow cooker and made carnitas with taco fixin's. People brought acoustic instruments and played for hours.
My meditation buddy, Christina, and I renewed our commitment to meditation and decided to try meditating later in the morning, leaving time early in the morning for working in our adjoining gardens. I love the easy way we make our meditation arrangements without expectations, leaving space for day to day adjustments.
Another visitor session started this last week, bringing new people and new perspectives to the village. Slowly over the space of a week I encountered each of the eight visitors and three kids and I made sure to introduce myself and chat, even briefly, with each one. Thistledown hosts the visitors for several meals each session and our already large kitchen ballooned up to, well, a larger number! Cob is the consummate host. He never turns anyone away and always finds a way to feed everyone delicious and generous meals. The visitors eat dinner and lunch with all the different co-op kitchens while they are here. On Friday evening there was a Q and A get together, where visitors could ask questions about life at Dancing Rabbit and there were plenty of Rabbits there to answer with different perspectives and experiences.
Graham and I planted a 50-foot row of summer squash this year and the plants are pumping out squash. I share a cook shift at Thistledown with my daughter, Talia, and this week we made zucchini noodles, cheesy zucchini tots, zucchini pie and zucchini brownies. Yum! I know there will come a time when I can't eat another zucchini dish, but for now it's wonderful summer goodness.
Graham and I were picking squash bugs and their eggs off of our precious squash plants when suddenly a heavy hum sounded close to my ear, startling me. I turned my head in time to see an enormous bumble bee lowering itself laboriously down past the squash leaves to the bright yellow blossoms at the base of the stems. We watched, fascinated; the bee, oblivious to us, crawled around in each blossom before barely lifting off and moving systematically to the next squash plant in the row. We weren't the only ones farming the plants! And I felt genuine gratitude witnessing the creature responsible for the pollination of our squash plants.
Just a few days ago we witnessed Benji's Birthday Spectacle which involved Benji (on crutches) limping over cardboard boxes set on fire at the dock by the pond and jumping into the pond. This Birthday Spectacle is an annual tradition at Dancing Rabbit.
My son and I have an ongoing debate about whether it is more helpful to the world to go out and organize against injustice, or (and this is my point of view) to work on being better able to listen to others, to understand ourselves better, and to learn to communicate more clearly and compassionately. I have found that living in community this past year has immersed me in how to cooperate and collaborate with others.  And isn't that the way to shift our cultural dynamics as a whole? I think the answer to this debate is that the two go hand in hand and I expect I will eventually engage with a wider aspect of the world. And I expect my son will use the interpersonal skills he's learning at Dancing Rabbit to go out into the world and be an even more effective organizer. One must have both to change the world.
I want to close with a quote from one of my beloved, qigong master teachers, Suzanne Friedman, who was born on the summer solstice and passed away several years ago. She was once teaching us how to live our lives as engaged health practitioners without burning out and offered us this Daoist perspective: "Don't try to heal the whole world. Find your own corner of the world and shine your light really brightly there and bring the world to you."
---
Come visit us this year to learn practical ways that you can incorporate radical sustainability in your own life! There are still two Sustainable Living Visitor Program sessions and several more workshops happening between now and October, how will you choose to get involved?