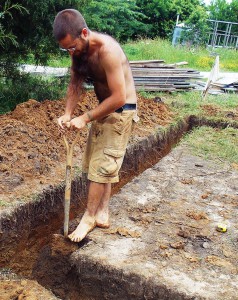 Phew! Hot and stormy, wet and muggy, tons going on— must be summertime at DR!
Tereza here with the news of the week that was, or at least what I can recall of it from my memory, word from community mates, and the info on my calendar…
Three tri-community folk had birthday events this week. On Monday Sandhill's Mica hosted a "try"athlon, where everyone was welcome to take part in any or all of the following: a bike ride from Sandhill to Red Earth, a walk or run from Red Earth to DR, and a swim across DR's largest pond. I was in the contingent of folks hoping to help Red Earth's Kim celebrate her birthday by hanging out at the event's end and watching our more active community mates do their stuff.
Or at least that was the plan. But turns out the race actually started on time, and as I was nearing the pond I heard a lot of congratulatory yells, marking the end of the event. Upon arrival I found many wet and happy tryathletes bearing their race numbers and homemade awards, and joined them for celebratory monkey bread (made by Kim in her bread oven), as well as popcorn and other treats. I also got to wish my friends happy birthday, hear highlights of the race from some the kids, and connect with others for a bit before heading home and getting back to work.
Before returning to the birthday topic, I want to mention how much I love that I've created a life for myself in which such flexibility is possible. I can't quite imagine any of my former bosses letting me leave in the middle of a busy Monday to do such a thing! I also couldn't help but notice my improved attitude once I returned to the computer, leading me to wonder how much more productive my former work life might have been had it included such pleasant interludes…
Thursday was a big birthday— Cob's 50th! Former Rabbits Sam and Kody made a surprise visit in time for it, and golly it's been nice seeing them around the village again! Illly created a spectacle that evening, which was planned to consist of the birthday co running down Main Street and bursting through a structure of flaming thin wood-strips.
In my excellent seat on the screened Milkweed Mercantile porch, I enjoyed chatting with visitors and Inn guests during the lead up to the fiery event. Cob, quite wisely in my mind, asked Nathan to be his proxy. It was a job well-done, I think, though it happened so quickly that I'm pretty sure I missed the actual moment of impact. Or maybe I just blinked.
In other village news, word on the street is that Joe has finished, or almost finished, the hand-dug foundation for his house! Huge congrats to Joe! Just imagining digging it by hand I'm impressed. Even for a tiny building that's a lot of work!
Saturday was hot and muggy, with a tornado watch on for much of the afternoon and evening. Most of the worst storms passed us by (thankfully no tornado, or even thunderstorm rating a severe label), but nevertheless there were some exciting wind noises from the trees and turbines during the strongest storms.
Also exciting: so much water and mulch heading downstream, making a lovely muddy mess of the path to my house. Many thanks to the mystery co (I'm guessing Ted or Theo) who scythed the area, making it a bit easier to navigate until I can manifest a little more robust path maintenance. And I so wish I could somehow magic some of the excess water to places that are in drought right now…
From the pictures I saw, it looks like the Rabbits who went to the Green Homes Festival near St. Louis had better weather for their Saturday, not to mention a lot of visitors to the booth. Hooray for reaching out and telling folks about the work we're doing!
Sunday was a triple whammy event-wise: Father's Day, Summer Solstice (for those in the northern hemisphere at least), and Red Earth Farm's 10th Annual Land Day party! Plus of course the usual Sunday stuff: weekly clean, week in preview meeting, and Village Council meeting. The Mercantile had a Father's Day brunch, a number of folks held an animal-themed solstice ritual at the fire circle, and lots of folks went to the tour, games, potluck, bonfire and after-party in various locations at Red Earth. Happy Father's Day, dads, Happy Solstice everyone, and congratulations to our awesome neighbors for reaching a community milestone!
And now for some hard stuff in the week. On Wednesday the tragic, racially-motivated church shooting occurred in Charleston, SC. I didn't find out about it until Thursday morning, and it affected much of the rest of the week for me, with huge upwellings of sadness, rage, and powerlessness. My heart goes out to all who lost loved ones, along with my fervent hopes and prayers that as a nation we can look openly and honestly at the racial divide that exists and actually do the difficult work of healing it. Real progress on this front often feels slow and hopeless to me, but the words of forgiveness spoken by those who lost family members in the shooting has been a touchstone for me the last few days. I aspire to be more like them, and am humbled in the face of the huge challenge of dismantling racism.
And in another arena of huge and humbling challenge, Thursday also brought the long-awaited climate change encyclical from Pope Francis. I haven't read all of it (it's 180-some pages), but the summaries and quotes I've seen are… heartening? depressing? I'd say a mixture of both.
Heartening because, wow! Here's someone with huge moral authority, clearly stating that climate change exists, and is an ethical and moral issue. He says that the dangerous impacts of a changing climate disproportionately affect the poor, and that those of us in developed countries need to make big changes now, not only to take care of the earth the Creator gave us, but also in order to treat our fellow beings well. Yeah. That right there. That's why I live at Dancing Rabbit. To be part of creating and living the change that needs to happen if we are to be one good and healthy human family sharing one good and healthy planet.
And also depressing, because wow! The Pope says: "The Earth, our home, is beginning to look more and more like an immense pile of filth. In many parts of the planet, the elderly lament that once beautiful landscapes are now covered with rubbish." Words like these, and many more, describing the devastating impact we are having on our fellow humans and this planet, our only home.
So to close… that's the week that was, from my perspective. Lots of awesome, lots of major bleck.
I want to stay in a place of hopefulness, of believing that things can get better, that we can do better and be better. But honestly this week it's been a struggle. I hold tight to my friends, my loved ones, people I admire from afar, and the beauty of nature all around me. And, this week at least, I'm clutching this quote from Pope Francis: "Yet all is not lost. Human beings, while capable of the worst, are also capable of rising above themselves, choosing again what is good, and making a new start."
Let's do that, humans. Let's choose the good. Let's make a new start.
•                  •                 •
Dancing Rabbit Ecovillage is an intentional community and nonprofit outside Rutledge, in northeast Missouri, focused on demonstrating sustainable living possibilities. Find out more about us by visiting our website, reading our blog, or emailing us.