It's challenging to go against what has become the funeral industry norm of unnecessary chemicals, extra waste, and showy expenses. Traditional caskets can include hundreds of pounds of metal, chemically treated wood, and synthetic fibers.  All these artificial barriers are designed to slow down the natural process of decomposition and they will eventually end up in the soil, polluting the land around them.  
Would you rather avoid spending thousands of dollars while also avoid the contaminating materials that will be buried in the ground?
You might think cremation would be a greener alternative. In reality, a typical cremation (according to reuters.com) "guzzles as much energy, in the form of natural gas and electricity, as a 500-mile (800 kilometer) car trip."
Even most seemingly-simple wooden caskets are made with chemically treated wood that has traveled half-way across the world in order to be mass produced for maximum profit.  The Green Burial Council approved cemeteries won't even let this kind of casket pollute their soil.
What's the best way for you to change the destructive status quo, make the burial process as natural as possible, and not waste money?
We have the ideal solution for you- it doesn't use harmful resources, and it doesn't waste money.
Functional and elegant in their minimalism, Pallet Wood Caskets return your loved one to the Earth with grace and respect for the cycles of nature.
Made one at a time, by hand, Pallet Wood Caskets are crafted almost entirely from recycled and natural materials.  
Perfect for folks who are environmentally conscious and appreciate simple design, these caskets are offered as a low-cost alternative to expensive, highly adorned coffins. 
When you honor your loved one's life by burying them in a Pallet Wood Casket you will:
Save up to thousands of dollars on a casket by opting out of the conventional funeral industry efforts to take advantage of you and your family during an emotionally vulnerable moment.
Return your loved one to the natural cycles of the Earth when they are lovingly buried in a biodegradable casket.
Avoid further devastation and resource drain on the earth when you lay your loved one to rest  in a casket made from recycled materials.
Help to stop the wasteful and destructive practice of adding toxins to the land when you avoid materials that have been chemically treated or made with synthetic materials.
Support small-scale craftsfolk who are working to minimize our footprint while also creating unique pieces.  
Give your loved-one a personalized burial in a one-of-a-kind casket which has not been mass-produced to fit a cookie cutter market.
Appreciate the efficient and authentic construction of a casket that will have a rough and natural finish, with aged wood that has beautiful character, just like your loved one. 
You Can Customize Your Pallet Wood Casket 
The rope handles are made with 100″ natural hemp rope; a renewable plant fiber that is strong, soft, beautiful, renewable, and is not treated with smelly oils like most other plant-based ropes.
For the premium version, we use a Japanese process for the exterior finish called yakisugi or shou sugi ban. This involves charring the surface of the boards to give it a beautiful blackened color that is followed by a rich oil coating to seal in the finish.
Basic: $897
The Basic Pallet Wood Casket comes with unfinished upcycled pallet wood, natural hemp rope handles, and a one-piece removable top.
Free Shipping for any casket purchase.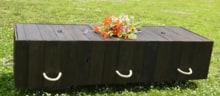 Premium: $997
The Premium PWC comes with all of the above, plus the shou sugi ban (blackened-wood) exterior finish.
Free Shipping for any casket purchase.
Due to UPS shipping size restrictions, there are limits to the size of the casket. These caskets will fit someone up to 6'2″ and 250 lbs. We can make custom caskets for a larger person, but they do not qualify for free shipping.
The use of pallet wood makes each casket unique in its own way. Due to the nature of upcycled pallet wood, there are nail holes and sawn off nails in places. We find this style has a charm of its own, but it should not be compared to furniture-grade stock.
Customization Options
We offer a handmade mattress and pillow set made of cotton and stuffed with straw. Also available is a handmade shroud to wrap the body. Casket customization options include a hinged top (one or two-piece), different wood stain colors, and hand-carved names or symbols. If you're interested in these customizations or have more questions, fill out the form below and we'll get in touch with you about what we can offer.
You don't have to follow the status quo and give your money to an industry that promotes waste, pointless expenses, and tries to take advantage of you in one of your most vulnerable moments.
Get a Pallet Wood Casket now and choose the green burial option that you need to best honor your loved one's life with a unique, simple, and natural burial.
Find out when we can deliver your casket
Fill out this form to receive your delivery date