Worthwhile Work: A Dancing Rabbit Update
At Dancing Rabbit, there are always approximately 114 things that I could be doing at any moment during the day. Should I go to the group meditation in the Casa or should I take advantage of the cool morning to plant the tomato starts? Should I go hang out at the Mercantile and talk about the lack of rain or should I take the kids for a swim in the pond to cool off or should I take a long walk out on the Prairie? Should I do some of the income work that I do online or should I send out the minutes for the most recent Village Council meeting or should I take a short walk to return the book I borrowed from my neighbor?
Christina here, writing about my currently very busy life—that feels somehow less busy than the life I used to lead.
The main difference between the decisions I make now about how to spend my time and those that I made in my past life, is that before, almost all of those decisions would be squeezed into the moments after work and before bed—and so once I completed the have-to-do tasks, I rarely had time for anything else.
Now, it's not that I spend my time doing whatever I want, but I do get to dedicate big chunks of it to the things I want to do. And I guess that means that I am constantly redefining my definition of "fun" as well as my definition of "work."
Last year, when we first talked about joining the goat co-op, my husband, Javier, asked me what we would get for the work that we did. He wanted to know—would we get paid? I told him that we would get some cheese but that the ultimate reward would be time with the goats. He laughed and we decided to join.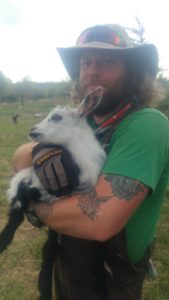 Now, my running joke when people ask me what it means to be in the goat co-op is that it means that we get to pay $80 per pound of cheese while everyone else pays $8. It's not that we are spending that much in cash, but when our family puts in a combined 10 hours of work on the goats per week, and we get a pound or two of cheese, it seems like maybe not the best return on our investment.  
But if I love the work that goes into getting that pound of cheese, then it's worth the time.
We have taken over a garden plot to the west of the village this year, and it has been a lot of work to "reclaim" a piece of land that had mostly been taken over by the weeds. Digging new beds, cutting down the 3-foot tall poison hemlock, and spreading manure all take a lot of work. We have planted out somewhere around 100 starts and probably three times that many seeds. Some of what we planted has already died, but some is looking like it might make it. If I begin to think about how much time it took me to get that plant to live, and what I might get in return, it definitely feels like it's not really worth it.  I could be getting more for my time if I got an hourly job here in the village.
But working in the garden is the thing that I want to be doing, so it's okay if a few tomatoes die.
During a Q&A at one of our recent visitor sessions, someone asked "How many hours on average do Rabbits work every week?" I have been thinking about that question ever since.  What constitutes work anyway? I tend to define it as something that makes money, but as someone who started a business two years ago that brought in approximately $1.50 per month for the first six months or so, maybe that isn't as clear-cut of a definition as I think it is.  
If I am out on a new, green pasture, watching the goats jumping and enjoying their new food source, does that constitute work? If I am taking in the views while carrying a straw bale from one side of the village to the other in order to make a new garden bed to plant zucchini and cucumbers, is that work? If I am sitting in the Great Room, talking to my friends and neighbors and working out solutions together, is that work?
I won't try to pretend that living here is always easy—growing food or moving the goats or trying to figure out a policy for cats that everyone can live with takes lots of effort—but when I see that work as the thing that I want to be doing, it doesn't seem like such a task. It still isn't always easy to decide what to do with my time here since it all feels worthwhile, but if I keep asking myself what I want to be doing, I can usually figure it out.
---