September 3-17, 2017 is your only chance this year to experience our life-changing visitor program in an all-women session…
Do you long to live a more connected, more sustainable life?
Are you ready to take the next step in creating that for yourself?
Do you crave more authentic human interactions?
Would you love to be in a supportive environment while you learn more about sustainable tools and skills such as:
Solar and wind power

Organic Gardening

Conflict resolution

Livestock care

Natural and green building

Permaculture

Non-violent communication

Inner Sustainability

and much more…
If your answer is yes, you'll definitely want to check out this rare opportunity to visit our community, for women only!
---

Why attend a women-only session? It's an excellent opportunity to: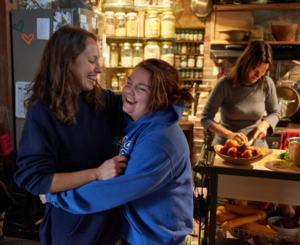 relax, unplug, and focus on what really matters to you
explore nature, learn new skills, and swim in our pond, in a feminist ecovillage setting (where unwanted male attention is not ok)
bond with other women of all ages, and from all walks of life, who share your interests and values
get a fresh perspective on life, your goals, and even yourself…
If you're ready to expand your horizons in a big and powerful way, click here to find out more, and request your application now!
---

Here's what participants in last year's all-women session had to say about their experiences:
"I had a lot of great one-on-one connections: questions, theories, listening, sharing—about body image, sex, politics, sustainable living, and did I say sex?—with the other women.

"There was something nice, nurturing, about having the common denominator of gender with the group. It was as if we were windows into the past and future for one another… of living lifetimes as conscious, open-hearted women." – Rachel, 28

"I was fairly sure when I came for my visitor session that I was going to move to Dancing Rabbit, but my experience in the women's visitor session solidified it for me. Feeling relaxed and open-hearted was effortless for me in the all-women visitor's session, and I especially loved connecting so deeply with women of a wide range of ages and backgrounds."  – Dorothy, 62

"Attending the womyn only visitor session was transformative. I felt at ease expressing my thoughts, feelings, vulnerabilities and confusion in ways I may not have felt comfortable doing in a co-ed visitor session.

"I loved being surrounded by curious women. I felt deeply privileged to share such a safe space with a diverse group of women in such a wide array of circumstances… from serious conversations to silly pond time, it was a heart-warming and self-affirming journey." – Eliza-Beth, 27

"At the time of my visit in the Women's Program at DR, I was a new single mama caring for (and carrying!) a healthy, robust, (and heavy) 11 1/2 month old. One afternoon while our group was preparing for a walkabout, upon returning from a bathroom break, I found our host – and my baby – ready and set to go… my son was snug in his baby carrier on HER shoulders and hips, happy as can be. It was such a moment of joy (and not to mention relief) to feel like I wasn't his only 'mama'. It truly sparked my heart, and lightened my arms, to feel like the old fashioned 'village' is being rekindled there at Dancing Rabbit." – Megan, 33
If you want to have your own wonderful, life-changing experiences in our 2017 women-only visitor session, find out more about our visitor program, and request your application now!
We look forward to meeting you!