Do you dream of building your own eco-home someday?

Are you excited about building with straw bales, earthen plaster, lime plaster, and other natural materials?

Are you ready to sling mud with people who have built their own
sustainable homes out of clay, sand, and straw?
If you answered yes to any of the above questions, we'd love to have you join us for our next natural building workshop!
Dancing Rabbit Ecovillage is a natural builders' paradise! Experienced builder Hassan Hall, one of Dancing Rabbit's leading natural building artists, will lead this hands-on workshop focusing on techniques for creatively building straw bales, earthen plaster, and lime plaster.
During the workshop you'll stack straw bale walls, and apply both lime and clay-based plasters. You'll work with base coats, rough plasters, and finish plasters. You'll also make clay and lime-base paints, and do a mosaic art installation. You'll take away natural building knowledge and experience that can be applied anywhere, including an existing home. All of this, set in an ecovillage committed to learning, living, and sharing ways to live more lightly on the earth!
Also in this workshop, you'll help create artful, affordable, and environmentally-sustainable shelter. You'll take a tour of naturally-built homes at Dancing Rabbit, and learn what you need to consider when building or retrofitting your own sustainable home. You'll see how earthen walls fit into the context of foundation, frame, and roof, and how to select appropriate materials for exterior and interior walls.
This one-of-a-kind workshop will provide you with:
new insights into human shelter and a deep understanding of the important role natural building can play in these unpredictable climatic times
an understanding of how a building's foundation, frame, roof, and walls fit together in design and construction
sensory experiences of natural material mixes and how to adapt them to your needs
practice with a variety of building tools
tips on what requires detailed attention, and what can be "quick and dirty," so you can build both artfully and efficiently
exercise, laughter, and a dozen new friends!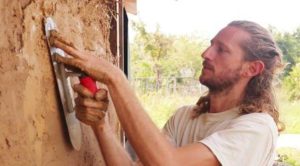 Most of the workshop will be experiential and hands-on, working with a variety of natural wall-building techniques:
straw bales
earthen plaster
lime plaster
tile/stained glass mosaic
If you want to have fun while getting messy, making new friends, and learning how to create sustainable, non-industrial, low-impact buildings, we invite you to register now, since this workshop is likely to sell out quickly. You'll come away knowing how you can contribute to a healthier world with your new natural building skills.
The July Workshop is Full.
Sign Up for the September Workshop Now!
Location
Dancing Rabbit Ecovillage, in northeastern Missouri, is home to some of the most excellent examples of sustainable building and eco-living in the country. Although course days are packed full, there will be opportunities to learn about Dancing Rabbit, connect with villagers, and participate in village activities. Please check out the rest of our website to learn more about our ecovillage.
This workshop will be held at 3 buildings of the natural buildings at Dancing Rabbit Ecovillage. Most of the hands-on learning segments will happen at a ~600 sq. foot straw bale rectangular house called Thunderlodge. On the last day we will be doing finish earthen plaster on the exterior of a 213 sq. foot round house called the Hermitage. The inside classroom type learning will happen in a 850 sq. foot round house called the Tea Cozy. Find out more about this building on 
Hassan's website
.
Dates
July 4-7 – FULL!
or
September 12-15
Arrive Thursday afternoon, depart Sunday afternoon.
Meals provided from Thursday dinner through Sunday lunch.
Hassan Hall
, lead instructor, has built three natural buildings at Dancing Rabbit since 2012, added artful and eccentric frills to many others, and taught at every opportunity. With an ideal to inspire and empower, he shares with students his passion for, knowledge of, and experience in artful natural building.
Julia Jack-Scott
, assistant instructor, has been studying and practicing natural building since she was an intern at Yestermorrow Design/Build School in 2005. She has designed and been a teacher/builder on many structures, the most recent of which is her straw bale/roundwood timber frame home in nearby La Plata, Missouri, where she lives and homesteads with her partner and daughter.
The course fee includes 3 meals a day, packed with as much nourishing, local food as possible. We can work with a range of dietary needs – let us know your particulars when you fill out the registration form. Please note that we do our best to accommodate different dietary needs but cannot guarantee that we will be able to.
The course fee includes camping accommodations in Dancing Rabbit's wooded campground. Platforms for tents are provided, along with a composting toilet and access to showers in the Dancing Rabbit Community Building.

Indoor accommodations are available to rent during the course for an additional fee. We have several options: rooms in cabins, private homes, and the bed & breakfast. Email us after you register to see what's still available.
Pricing
1 Adult: $497

The all-inclusive fee covers: instruction, materials, meals, camping platform (bring your own gear), showers, bathrooms, WiFi, and community building access. Indoor accommodations are available at an extra cost.

"Working with Hassan was an all-around exceptionally positive experience. His knowledge about natural building and patience with guiding me through new techniques were a huge asset to my experience. But more than that; Hassan is a skilled problem-solver. Natural building is often less structured and by-the-book than conventional building, which can leave room for uncertainties and potential mistakes. Hassan has the experience to guide you through any questions and help problem-solve any concerns you may have on building plans of your own.

Living at Dancing Rabbit Eco-village has given Hassan the unique opportunity to create multiple beautiful and one of a kind buildings in very close proximity to one another. By partaking in a workshop with Hassan you get the opportunity to experience not just one building but several. I can't think of a better place to experience natural building than at Dancing Rabbit with Hassan!"
-Kale W., former work exchanger at Dancing Rabbit