Critter Internships
Here at the "Critter Collective," we consider ourselves on the more hardcore side of ecologically friendly living. We are Caleb (25), Mae (28), Ben (28), Althea (4), Katherine (29), and Kyle (29). We like providing a reality check for those who still think living off the grid at an ecovillage is all cozy firelight and frollicking naked with butterflies in the meadow at dusk. To hell with these pleasantries– we prefer staying rugged with a barnyard full of noisy goats, smelly sheep, and pestilent muscovy ducks. Our main projects of the summer include the construction of a strawbale kitchen, the management of our livestock, and growing more and more of our own food in the gardens. Flexibility, ruggedness, and the ability to chill are critical.
Our work days will be structured, but they won't be 9-5. We like planning in advance, but to accommodate our hectic lives (like working around say, a tuesday noon dance party, or… a tornado). It's important to understand that ours is a highly fluid work scene where work and play are constantly intertwined. You may find yourself swinging a hammer one moment, and then wrangling sheep or securing a neighbor's roof the next. Although our main focus (and yours) will be on the projects outlined below, there will be lots of other opportunities where you can help, learn, have fun, and witness the dynamic progression of our subcommunity. Ideally you will be someone who doesn't take life too seriously, but knows how to get some serious work done when due.
Gardening Work Exchange:
Hey there, Katherine here! I am looking for a self-motivated gardener that will also process our food (canning/dehydrating) and is comfortable cooking a vegetarian meal for 8ish folks at a time. Ideally you would come early May and stay through the growing season to harvest and process. I would like someone who can be given a task and then self manage. Basic chores are weeding, digging grass, mulching, and watering the garden. A special chore to keep you busy is rebuilding the garden fence! When not in the garden, I would love to see an initiative in the kitchen from cheese, tofu, and bread making to ferments and other such fun projects. Beginner experience is acceptable if the enthusiasm is abundant!  🙂
Livestock Systems Work Exchange: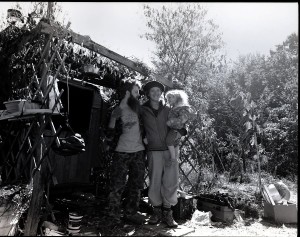 Hi, I'm Mae! I'm seeking a work exchanger this year to help me with my primary project of building our animal infrastructure and taking care of the livestock.  Central to this is my chicken ranch, I have about 30 hens and we will raise another 150 chickens this year.  Projects will likely include designing and building a coop, planting 16 trees and putting in swales, a black soldier fly larvae harvester that uses humanure, and processing birds in the fall.  Routine stuff includes moving fence, milking, working with the donkey, etc.  We also have ducks, goats, sheep and a miniature donkey.  I am looking for someone that likes permaculture, is comfortable with hand tools and animals and who knows how to work hard, even when the weather sucks.
Building Work Exchange:
Caleb and Kyle first became men while building an idyllic cob cottage in rural Iowa. They have since reverted to boyhood, and reside among the Critters at Dancing Rabbit.
One of the tasks (and joys) in establishing our subcommunity is providing shelter. Therefore, we are seeking one work exchanger to help primarily on building.
A few tasks include:
• framing timbers
• fitting strawbales into walls
• mixing and applying plaster
• providing your opinions on practical living spaces
• keeping us from oversleeping
In exchange, we will impart our fair share of knowledge of the following:
• post and beam construction, traditional and contemporary
• strawbale construction
• problem solving
• insight into what it takes to design and execute high functioning shelter amidst a vibrant social scene
• keeping you from oversleeping
One of the main projects we have lined up for this summer is to build a kitchen for our subcommunity, as well as serve a growing agricultural market here at DR. This kitchen will be somewhat hybridized, so as our building wexer, you'll become adept with diverse techniques, including post and beam framing, stick framing, earth bags, straw bale, and earthen plaster. Additionally, you'll get the chance to work with earthen floor, light clay straw, cob, masonry mass heaters, metal roofing, living roofing, wooden flooring, passive solar design, and more.
Ecovillage Lifestyle Work Exchange: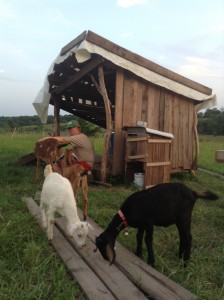 We critters boast a highly dynamic social and work scene– new projects spring up daily, we're highly engaged in the civics of DR, we consider ourselves at the vanguard of an exciting agricultural world, and we see a lot of of interesting people and ideas pass through our lives. At the same time, we also have plenty of chores. We are seeking a work exchanger to help lend a hand in these daily tasks. In short, we would love to host your experience of life at an ecovillage. In exchange, we would ask that you pull your weight and help alleviate our daily chore load. Your time and responsibility would be minimal, but no less important! We would rely on you to be the grease in our cogs.
Examples of tasks could include (you will have some flexibility in picking and choosing):
• childcare
• cooking and cleanup
• managing recycling, compost, and trash
• hauling water for drinking or livestock
• moving the sheep
This position is designed to give you a Dancing Rabbit experience with a minimal time attachment (10-20 hours per week). It would be ideal for someone who has an artistic project that requires time and inspiration. Or for someone seeking a taste of ecovillage life but still desiring your own space and flexibility in determining your own independent schedule. Your work load would be light, but it is important that you are good at self supervision, reliability, and finding things to do in your ample free time.