Work Exchange and Internship Opportunities at Dancing Rabbit
If you'd like to see what life is like at Dancing Rabbit and build your skills in sustainable living at the same time, you may be interested in a work exchange or internship position. In exchange for your help on a project, your project host typically provides for your living accommodations, food, and other living expenses while at Dancing Rabbit.
Opportunities to gain hands-on experience is, of course, also part of the exchange. Projects often include natural building, green building, building design, organic gardening and food preservation, small agricultural endeavors, small business projects, childcare, and sustainable technology. The work exchange/internship "season" generally runs from April through October (though occasionally extended season opportunities arise).
---
2018 Work Exchange at Dancing Rabbit Ecovillage
---
What is it like to be a work exchanger/intern at Dancing Rabbit?
Work exchangers and interns are hosted by individual Dancing Rabbit members. Arrangements between members and work exchangers/interns vary from project to project.
While a major focus of an work exchange/internship is on the work project, these opportunities offer much more. 
Typically, as a work exchanger or intern you are part of an eating cooperative or family-style eating arrangement. This allows you ample opportunities to prepare food, cook, and be involved in kitchen upkeep. You are also invited to be involved in the broader community of DR. You can attend the many and varied events that go on in the village and in neighboring communities. You have opportunities to participate in work parties and routine community duties. You also have access to the swimming pond as well as the 280 acres of land owned by Dancing Rabbit Land Trust.
Building Opportunities
As an eco-village literally "under construction," we often have many building projects happening at once. As a building work exchanger/intern you may have opportunities to experience one or more of these natural building methods:
Straw Bale
Earth & Lime Plaster
Earthen Floors
Light Clay Straw
Timber Frame
Post and Beam
Cob
Earth Bag
Urbanite Foundation
Rubble Trench
Some of the work takes some prior knowledge and skill, but a lot of it simply takes willingness to do hard, sometimes repetitive, physical labor and a good attitude. You're sure to get lots of practice in what natural building is all about!
Organic Gardening Opportunities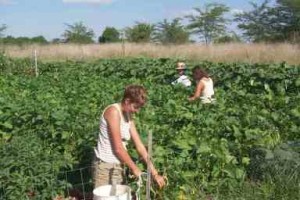 Many Dancing Rabbit members have garden spaces around their homes or in designated garden spaces around the village. As a work exchanger/intern you may have opportunities to:
prepare garden beds for planting
tend to plant starts in a greenhouse
transplant starts
weed and water (a summertime favorite!)
apply natural pest control methods
harvest the goodies
cook, dry, pickle, and preserve food in many other ways
prune trees
tend to a vineyard
inoculate mushroom logs
gather wild edibles
tend to worms, chickens, or other animals
The work will depend on the time of the year and the gardening style of the host. As a work exchanger/intern you're sure to get muddy and sweaty and to eat good home-grown food!
If you'd like to come see what we're doing and experience one or two weeks of life among the Rabbits, please check out our visitor program.
You may also want to check out the internships available at our neighboring communities, Sandhill Farm and Red Earth Farms.