A Permaculture Nugget
We're offering several of the following "permaculture nuggets" over the weeks leading up to the Permaculture Design Course. Please enjoy!
When is a garden more than a garden? When it's designed using the creative Permaculture Principle of "Stacking Functions." Everything in a permaculture design has more than one use!
Robinia, my house at Dancing Rabbit, is a great example of stacking functions – the garden is literally "stacked" on the roof. Designed with a very walkable pitch, and covered with 10 inches of soil, the roof provides open space to grow food. My partner Dennis and I have successfully grown potatoes, squashes, greens, and tomatoes on top of Robinia.
But that's not all the garden does! The thick layer of earth on the roof mediates the temperatures inside the house. In the winter it's warmer than it would be with a metal roof, and in the summer it's cooler.  And that means we burn less wood in the winter and use less electricity to cool the house in the summer.
And rather quietly, the rooftop garden is also capturing carbon. The plants on the roof – cultivated and non-cultivated – replace the ground level prairie grasses destroyed when the house foundation was dug. The garden on the roof takes in carbon in a way a metal or shingled roof never could.
Dennis and I like to mention at least one more function for Robinia's rooftop garden: it provides a great place for watching sunsets!
You can learn more about "stacking functions" and many other permaculture principles at the Permaculture Design Course (PDC) at Dancing Rabbit Ecovillage, August 29-Sept. 6. Earn a permaculture design certificate while experiencing life in an ecovillage! Click here for more information and course registration.
---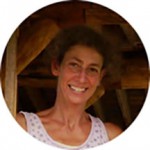 Sharon has lived at Dancing Rabbit for the past six years. She has studied and practiced permaculture for close to twenty years, receiving an advanced design certificate and, most recently, a teaching certificate. She is the author of a permaculture curriculum for children, and will apprentice teach with Bill and Becky Wilson at Dancing Rabbit's permaculture design course in August.