Celebration!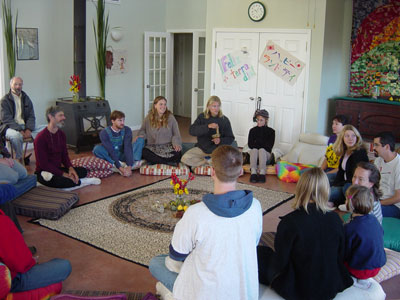 Special occasions are an important part of building and maintaining a vibrant culture. Just like elsewhere, some folks at Dancing Rabbit celebrate holidays such as Christmas, Passover, Dia de los Muertos (Day of the Dead), Thanksgiving, and New Year's Eve.
We also celebrate Land Day (the anniversary of the day we purchased the land), and solstices and equinoxes. Validation Day, a day to express appreciation for each other in written form, is often celebrated around February 14th. We join in celebrating May Day with our neighbors at Sandhill, and Land Day at Red Earth Farms, which coincides with summer solstice.
Birthdays and Halloween (also known in DR parlance as Holler-ween) can be especially fun for those who choose to participate. The birthday person can wear a colorful birthday cape, so the rest of us can be sure to celebrate them throughout the day, and make special requests, such as lots of hugs, a big dance party, or a special song at dinner. On Halloween we've developed the tradition of holding a Progressive Fiasco, where we dress up and take the party from house to house (and sometimes tent to tent!) to any location that wants to host some fun.
Other celebrations have included commitment ceremonies and weddings, baby-welcomings, coming of age ceremonies, groundbreakings and housewarmings, naming parties (a fun method for choosing a name, for a person or a new building), farewell parties, and memorial celebrations. We look forward to creating more rituals and events as our community continues to grow and mature.