House Concerts
You might think that being in a rural area would mean that it'd be hard to see our favorite bands in concert. But with small touring bands we can actually have the music come straight to us. We enjoy having a special night where we can invite our friends from the local community to kick back and watch someone else play the music. It's really a great deal for both the band, who gets an attentive audience of like minded folks, and the community, who gets a wonderful performance right at home.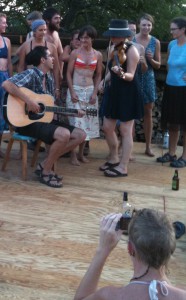 In the past we've been lucky to have performances by :
Zoe Boekbinder
Kristen Graves
Michael Ismerio
Shenandoah Davis
Rebecca Riots
Allette Brooks
Rachel Garlin
Amy Martin
Deerhoof
We hope someday DR will be famous for its off-grid house concert series.
So if you are or know touring musicians that want to play a show for an ecovillage, please contact Rachel. We can't offer much money, but we'd be happy to provide housing, organic vegetarian meals, and an enthusiastic crowd on any night of the week, in our Casa de Cultura performance space.