Art
Artistic interests and pursuits are many and varied here. On the consumption end of things, lots of folks listen to music, watch movies, visit museums, etc. via the internet and other technology. The local Memphis theater shows $2 movies in the colder months, and Kirksville offers movies and music as well. We host house concerts semi-regularly, where touring musicians stop by to check DR out and entertain an enthusiastic audience. Our regular Talent/No Talent Shows, where members, residents and visitors display their talents (or lack thereof) are always well attended.
On the production front, we have a number of artists who live and create their art here. There are also those who may not think of themselves as artists, but anyone seeing the beautiful work on their homes—sculptural effects, mosaics, architectural choices—knows they are. We also have writers and plenty of musicians. Piano, guitar, harmonica, mandolin, ukulele, and banjo are just some of the instruments that can be heard in the village. Song circle is a weekly event, and dance of all kinds—from blues to club to square and contra—happens regularly.
Music
"There'll be music, sweet music…there'll be music everywhere." –Dancing in the Streets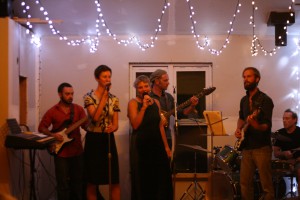 Walking around Dancing Rabbit town, the sounds of music waft to one's ears. Stereos entertain cooks chopping vegetables, choir veterans teach madrigals to eager new singers, guitars ring from every corner.
Making music is one of the easiest art forms for Rabbits to practice. It's portable, it's easy to pick up for a short time in a free moment, and anyone can do it. The drive to make music seems almost irresistible for a lot of people, so there are a lot of outlets for music-making energy here at the ecovillage..
There a weekly a capella song circle, a part-singing group rehearses irregularly, and pop/rock/blues groups rehearse and give impromptu or planned performances from time to time. We also do sing-a-longs whenever critical mass hits. You can't swing a cat at DR without hitting a guitar player (and annoying the cat) ((joke)) so there's always someone plucking away and drawing another player into their spell to learn a new song or technique.
There's an opportunity for everyone, from serious musicians to those who just want to sing along with a guitar while doing dishes. Of course, sometimes it's good to be stimulated by outside influences as well, and we have a large music collection covering a wide range, from classical to disco, for just this purpose. We also have a goodly number of house concerts on site.
House Concerts
You might think that being in a rural area would mean that it'd be hard to see our favorite bands in concert. But with small touring bands we can actually have the music come straight to us. We enjoy having a special night where we can invite our friends from the local community to kick back and watch someone else play the music. It's really a great deal for both the band, who gets an attentive audience of like minded folks, and the community, who gets a wonderful performance right at home.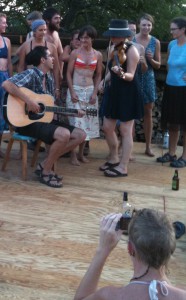 In the past we've been lucky to have performances by :
Zoe Boekbinder
Kristen Graves
Michael Ismerio
Shenandoah Davis
Rebecca Riots
Allette Brooks
Rachel Garlin
Amy Martin
Deerhoof
We hope someday DR will be famous for its off-grid house concert series.
So if you are or know touring musicians that want to play a show for an ecovillage, please contact Rachel. We can't offer much money, but we'd be happy to provide housing, organic vegetarian meals, and an enthusiastic crowd on any night of the week, in our Casa de Cultura performance space.
Dancing Rabbit is a great place to sing, play or learn to play an instrument. Whether you prefer to yodel, digeridoo, or (god forbid) play the trombone, if you come to visit, come ready to play!
In the past we hosted artists in residence, who created pieces that have stayed in the community and are well-loved, including a mural and a DR quilt.
Mural
In the summer of 1999 Dancing Rabbit hosted an Artist in Residence internship in order to create community art that would reflect the land and contribute to a history of artwork that promotes a connection to local nature. The result was a large scale mural on the northern wall of our outdoor kitchen, in the middle of our burgeoning village. Larger versions of the images below can be viewed by clicking on each image. The artist, Barbara Duperron, stayed at Dancing Rabbit for several months while creating it—be sure to read her statement below.
Memory Loop Five
Artist's Statement
Memory Loop Five was created to honor the species and spirits that find a home at Dancing Rabbit. I have created a visual representation of fifteen species that are native to northeast Missouri. Most of the species still exist here; two are now only memories. The circle motif is meant to represent the cycle of life in which these species, and all others species, exist. I chose to format the mural as a triptych to allow for a visual separation between the present day species and those from the past. The smaller side panels have animal prints in them which represent Elk (left panel) and Grey Wolf (right panel). I placed the prints in large circles that spill over into the central panel. This represents our important connection to the past. The five circles in the central panel all represent species which are still present in Northeast Missouri. The triangular pattern within the large circles and the green border found along the edges was inspired by Hopi and Taewa pottery/fabric designs. This is not meant to show a specific connection to Native American culture but rather to show a connection to all things as a whole. My wish is to create a memory loop of peace for everyone who views this work of art.
-Barbara Duperron
Left Panel

Elk
Timothy Grass (still present)

Central Panel—Large Circle

Oak
Mulberry
Purple Cone Flower
Partridge Pea
Wild Strawberry
Indian Blanket
Maple

Central Panel—Smaller Circles

American Goldfinch
Northern Oriole
Red Winged Blackbird
Eastern Bluebird
Right Panel

Grey Wolf
Wheatgrass (still present)