Thank you for taking the time to register and pay for a workshop or visitor program at Dancing Rabbit Ecovillage!
The following accommodations are available for Dancing Rabbit program participants (that's you!). These spaces are available on a first come, first serve basis.
You can reach out using the contact info below to reserve lodging for yourself during your visit.
Itty Bitty Cabins
Three, 1‐room cozy cabins! Stay out of the rain and away from the ticks in a comfortable Itty Bitty Cabin at Dancing Rabbit. Your stay in an Itty Bitty Cabin includes: • One sleeping cot per cabin • Lights • A fan • An outlet for charging cell phones, ipods, computers, etc. • Smoke detector • Wireless Internet (occasionally unavailable for 1‐2 hours every few days) Go to http://www.ittybittycabins.com for more information and reservations.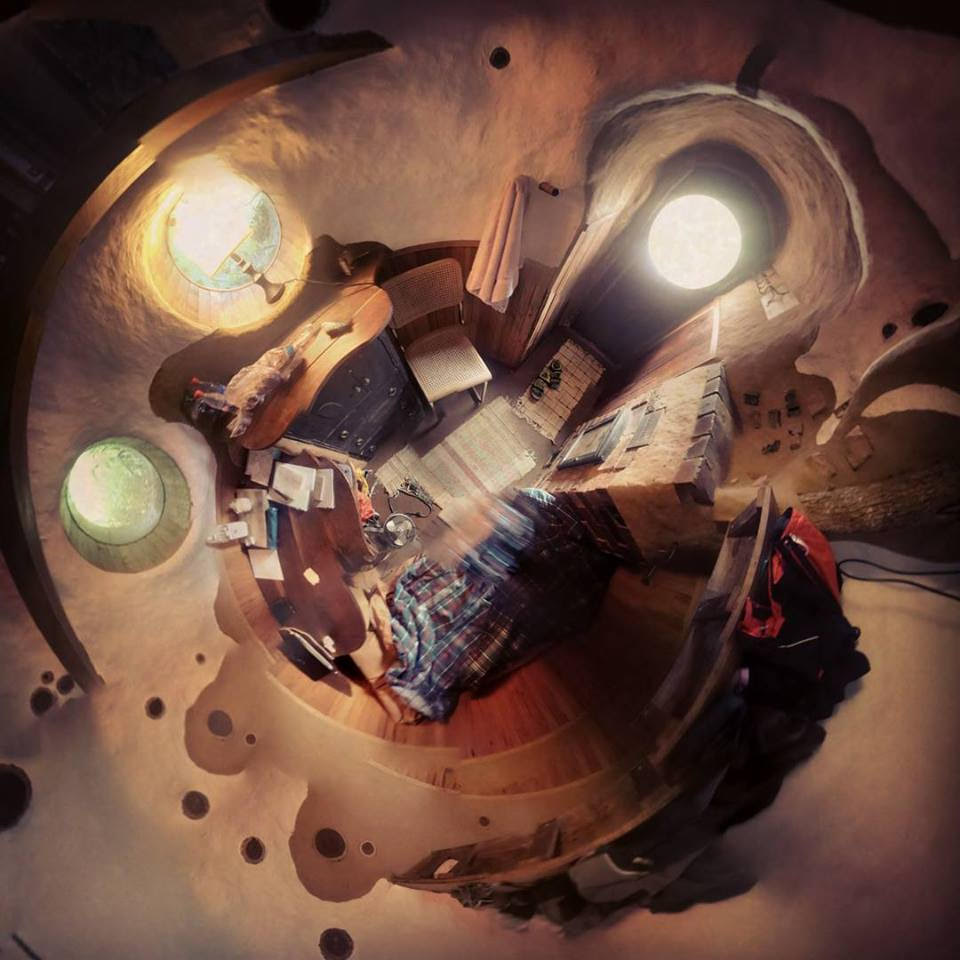 The Gnome Dome
This partly underground earthbag abode is now available! • Tiny. Space to think, sleep, be. Suitable for one occupant only. • Quaint. Built into a prairie hillock, could just as well be called the hobbit hole! • Comfortable. Wired. Resilient to heat and cold. Storm-proof. • Customized. Hand built down to the bed, desk, skylight, stove. Rates: $20 per night, plus a one time cleaning fee of $45. To Reserve: Contact kylejyoder@gmail.com for more information.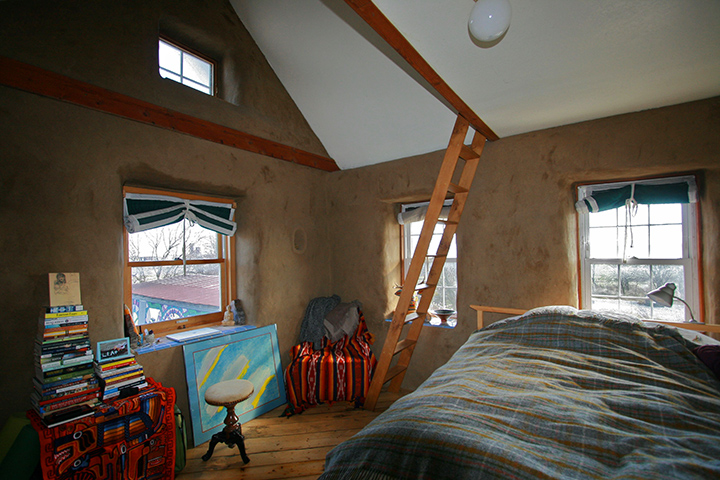 Skyhouse Guest Room
170 sq/ft private room on second story of a strawbale house • Double Bed ‐sheets and blankets provided or feel free to bring your own • Loft available for additional sleeping space • Bathroom with shower and composting toilet down the hall • Electricity available but please conserve. Wifi available. • Families with children welcome (generally no more than 4 people in the room); No Pets; No Smoking Rates: Sliding scale $35‐50/night or $150‐250/week. An added $5 per additional person/per night or $30 per additional person/per week To Reserve: Contact John at jdemaree33@gmail.com for more information.
Thistledown Guest Room
Private room in a shared family home with many interesting architectural features including advanced framing, earthen berms, and high efficiency heating & cooling. Rental includes bedding, blankets, bathroom, electricity, high-speed internet with wifi, and use of the common living room and dining spaces. Room is furnished with a double bed, ample desk, bookshelves, a full closet, and a window fan with cross-ventilation. No pets allowed, other than the friendly dog who already lives here, and of course no smoking. Small children welcome, but let's chat first to make sure our arrangements will work for you and your family! Rates: $50/night; $150/wk; single or double occupancy. Rentals must be confirmed and paid prior to arrival. To Reserve: Contact Cob at scratchydad@gmail.com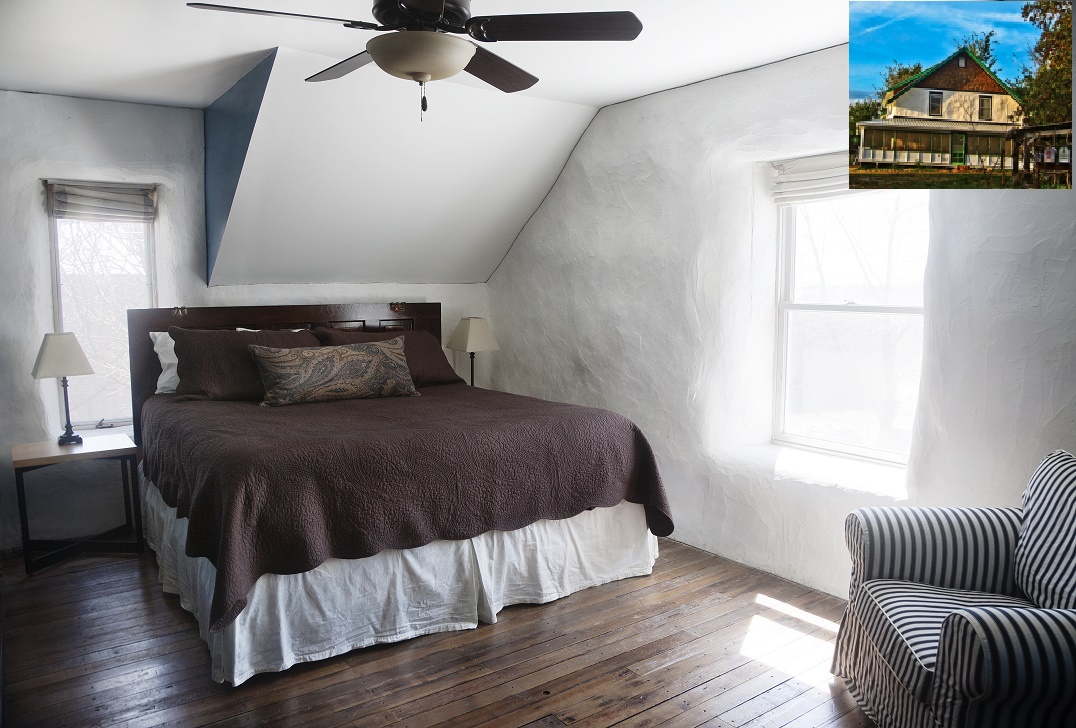 Milkweed Mercantile
Come stay in the Milkweed Mercantile, a beautiful climate-controlled straw bale building, which is now owned and operated by a worker cooperative! Accommodations are available for one, two, or 3 weeks for participants in Dancing Rabbit's Official Visitor Program OR participants in the Permaculture Design Course. Stays for fewer than seven days do not qualify for these specially discounted rates. Your stay includes: • Super comfortable beds • Fresh linens once a week (sheets and towels) • Free wifi • Two impeccably clean showers (one accessible) utilizing collected rainwater • Two odorless composting toilets (one accessible) • Upstairs lounge with couch, armchair, table & chairs, books, games, hardwood floor for yoga, etc. • Ample electricity (the Mercantile generates its own solar power and is hooked up to the Dancing Rabbit power grid). • Potable drinking water (water at the Mercantile is rainwater that has been filtered and treated with UV light. It consistently passes Health Department inspections). NOTE: Breakfast is not included in this special rate. All meals (including breakfast) are included in the Visitor Program fees, and in the Permaculture Course fees. View photos of the rooms here: http://www.milkweedmercantile.com/rooms Weekly Rates: • Rachel Carson Room – Designed for families or groups. A large upstairs room with one queen bed and two twin beds (in a trundle). $375 per week for two adults and up to two children OR three adults. • Wallace Stegner Room – a small room with two twin beds. $300 per week, for one or two people (no discount for just one person). • David Brower Room - a large upstairs room with one queen bed. $350 per week for up to two adults. Payment: Half of full room amount is due upon reservation, the rest due upon check-in. Because of the steeply discounted rate we are not able to provide refunds for early departures. Contact: innkeeper@milkweedmercantile.com with questions or for reservations. We look forward to meeting you!
Timberframe 2nd Story Space
Make yourself at home with us in this beautiful natural built home!

As a guest, you'll stay in the 225 sqft master bedroom. Enjoy a meditation loft and separate entrance from a 75 sqft deck overlooking the Missouri Prairie. You'll enjoy the stunning sunrises which come over the prairie landscape each morning!

The master bedroom comes furnished with a double bed, writing desk and chair, plush silk floor rug, and hanging rack for your clothing. Bed linens, fan, heat, electricity, and wireless internet are included with rental.

Dan will be your contact person at Dancing Rabbit Ecovillage.

Rates:
• Single Bedroom: rented by single: $35/night, $200/week, $500/3 weeks
• Bedroom rented by couple: $50/night, $300/week, $800/3 weeks
• Downstairs Addition: $80 per night. You'll have access to two bedrooms, living, dining, bathroom.
Sorry, no pets or smoking (indoors or outdoors on the property) please. People with cat allergies may have issues being here – some people react to our cats' dander, while others do not.

Contact timberhome@gmail.com for more information.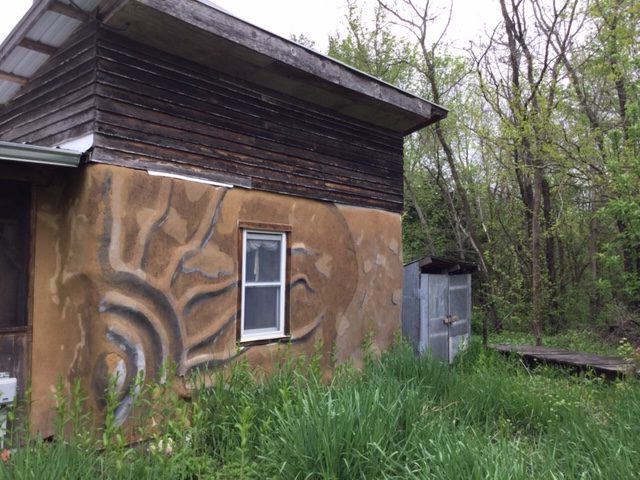 Bella Ciao
Perfect for one, cozy for two, straw bale, grid tied solar, full electric, wood stove, warm in the cold, cool in the heat. $35-45 per night $150-200 per week. One time clean fee $30.00 To Reserve: Contact Jason at jasonboombapp@gmail.com for more information.