Natural Building Internship
Come join in a hands on building experience where you will help create a straw bale roundhouse from start to finish in just 2 months.
Come join in a hands on building experience where you will help create a straw bale roundhouse from start to finish in just 2 months.
Construction & Theory
Learn all steps of natural building construction including the theory behind it, so you can do this type of project on your own. No matter the shape and size of your home.
Hands on experience
Get hands on experience with a multitude of different natural building techniques like straw bale walls, reciprocal roofs, natural plaster work, simple framing, rubble trench foundation, cob walls, cordwood walls, bottle walls and more!
Design Project
Design your own project and create the steps from start to finish with peer and facilitator review. This will increase your understanding on things to think through when planning your build.
Community Living
Experience building a home made from the earth while being surrounded by an ecologically minded culture. Immerse yourself in sustainable living practices in our ecovillage, where you will also learn the soft skills of inner sustainability like communication, cooperation and connection.
Are you an ecologically minded, able bodied person with construction experience?
Do you desire becoming a builder and creator in the natural building world?
If you are craving the freedom to design from your heart a home that fills your life with joy, come along and be one of the few to join Hassan this summer for a 2 month long internship on natural building. You will help create a single room roundhouse that will be scaleable to your own future design projects by applying the principles and design techniques you will learn. This home will be built in the context of Dancing Rabbit Ecovillage where many amenities are shared in the village. 
It will include electricity, a wood stove, a kitchenette and bed or living space. You will be using power and hand tools to complete a variety of natural building techniques and artistic features. Come spend your time learning how to bring the magic of natural building into your life.
Lime Plaster Application
Straw Bale Construction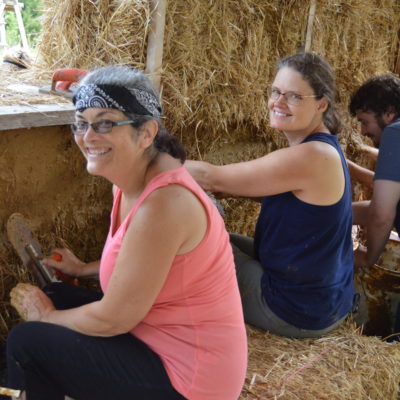 Natural Clay Plaster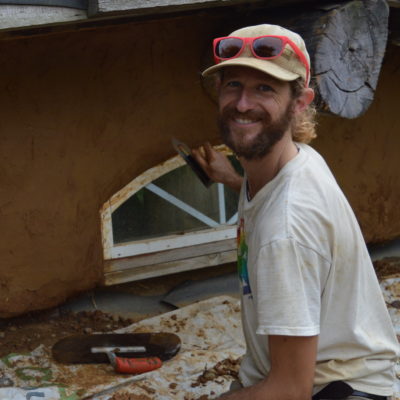 Natural Plaster Finish
"I think it's important to provide natural building furthering education opportunities for aspiring natural builders. I am mostly self taught and it has been a long road. I have worked with other people and have found that mentorship very valuable. It is important for me that there are more natural builders in the world who are impassioned to use their creativity to create homes that are not just boxes to live in, but are soulful heartful homes. I have the experience and want to share how to create a home from start to finish with a few helping hands in just two months, which is rare in the natural building world."
– Hassan Hall
"The way Hassan explained the properties of all the materials we worked with was so helpful for me. I feel like I understand so much more than just a few days ago and also feel calmer and less intimidated about building, and thats because of the attitude he exhibited in how he goes about building."
– Amy, Natural Building Workshop Participant 2018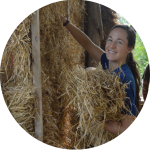 "I enjoyed the hands on experience of stacking straw bales. It was also helpful to see the tow different plastering techniques adjacent to each other. I am more excited about the possibility of building a straw bale home than I have ever been." 
– Ryan, Natural Building Workshop Participant 2018
"Building one's own home is possible and within reach. Highlights from working with Hassan, on my home Thunderlodge, was the support and enthusiasm for my endeavor. I can do this!"
– Angela, Natural Building Workshop Participant 2018
Hassan Hall
, lead instructor, has built three natural buildings at Dancing Rabbit since 2012, added artful and eccentric frills to many others, and taught at every opportunity. With an ideal to inspire and empower, he shares with students his passion for, knowledge of, and experience in artful natural building.
You will get to spend 30-40 hours a week immersed in hands on natural building techniques, theory discussions, and class time. Meal times will be consist of shared meals in a kitchen co-op. Any other free time you have you can spend taking part in community events and village offerings. For more information on life at Dancing Rabbit, please feel free to check out other pages on this site.
The internship fee includes 3 meals a day, packed with as much nourishing, local food as possible. We can work with a range of dietary needs – let us know your particulars when you fill out the registration form. Please note that we do our best to accommodate different dietary needs but cannot guarantee that we will be able to.
The course fee includes camping accommodations in Dancing Rabbit's wooded campground. Platforms for tents are provided, along with a composting toilet and access to showers in the Dancing Rabbit Community Building.

Indoor accommodations are available to rent during the course for an additional fee. We have several options: rooms in cabins, private homes, and the bed & breakfast. Email us after you register to see what's still available.
Pricing
$1,400

The all-inclusive fee covers: instruction, materials, meals, camping platform (bring your own gear), showers, bathrooms, WiFi, and community building access. Indoor accommodations are available at an extra cost.