It's a pretty bold claim that a small group of ecovillagers in the Midwest might inspire Americans to change how they transport themselves, but read on and you'll see why it's a bold claim with promise…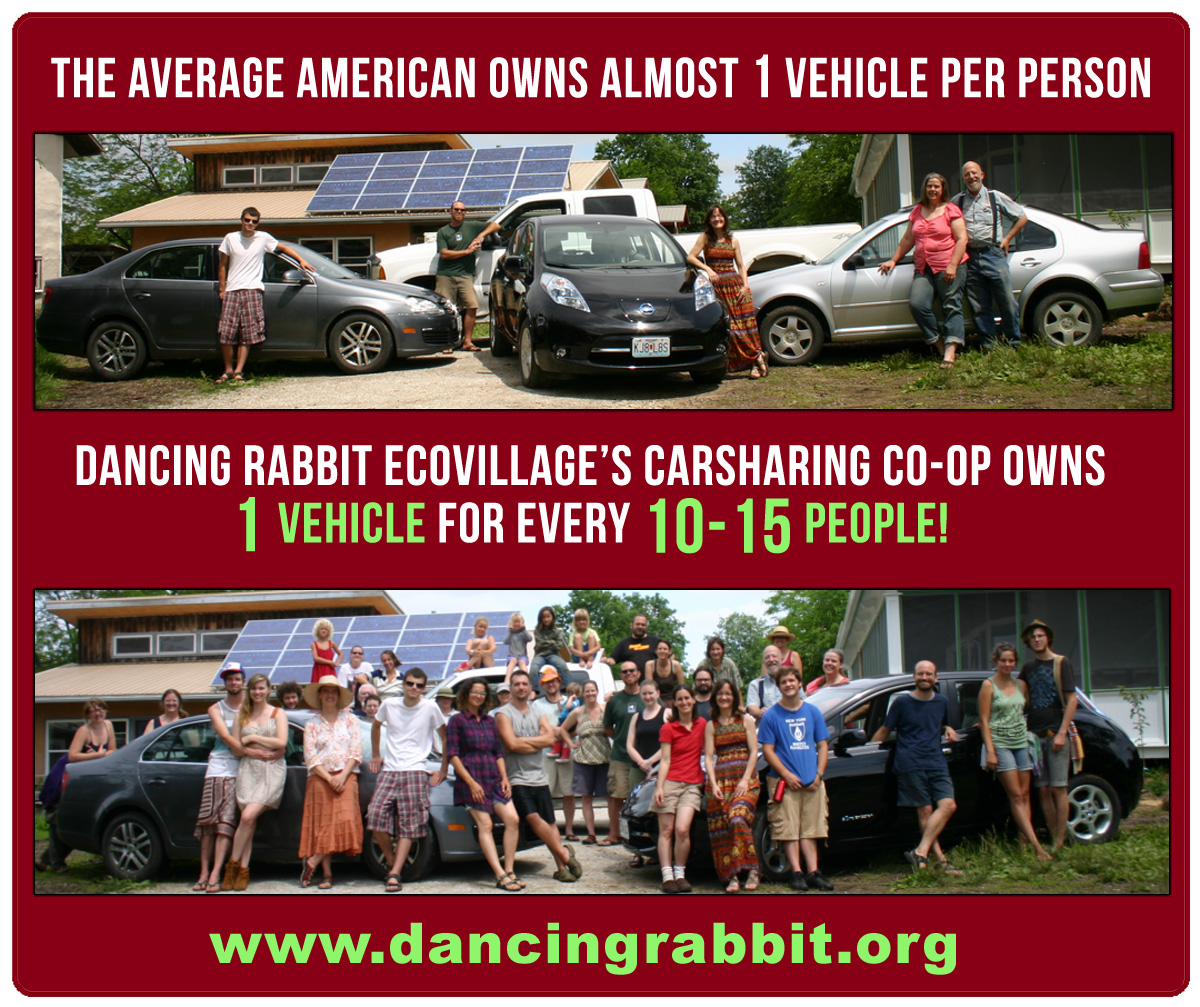 That's a stark contrast that makes a big environmental difference!
In terms of day-to-day operations, the Dancing Rabbit Vehicle Cooperative (DRVC) provides transportation for Dancing Rabbit Ecovillage residents and a few of our neighbors. The first of our 6 ecological covenants prohibits our members from using personal vehicles. Owning our vehicles cooperatively lets us enjoy the convenience of automobiles with a small fraction of the negative ecological impact.
Fees are based on miles driven, providing a strong financial incentive to share rides and to drive less. And it works: the average DRVC member drives 90% less than the average American and spends less than $50 per month on fuel, maintenance and insurance, combined!
Pretty awesome, right? Maybe you're feeling inspired enough to do something yourself?
Will you follow our lead and join the carsharing movement?
You can start by finding out which carsharing organizations are available in your local area; or check out the different types of carsharing below, and see if your prefered type has a location near you.
Peer-to-peer

 – Share your vehicle with others, or use a neighbor's vehicle.
Examples:  RelayRides, Getaround.
If carsharing isn't happening in your area, you can add your vehicle to one of the peer-to-peer networks to start sharing your vehicle, or you can even start your own carsharing co-op.
We've reduced our vehicle use by 90%, will you?
Post on social media about how we've inspired you to make a change and help transform vehicle use in America!