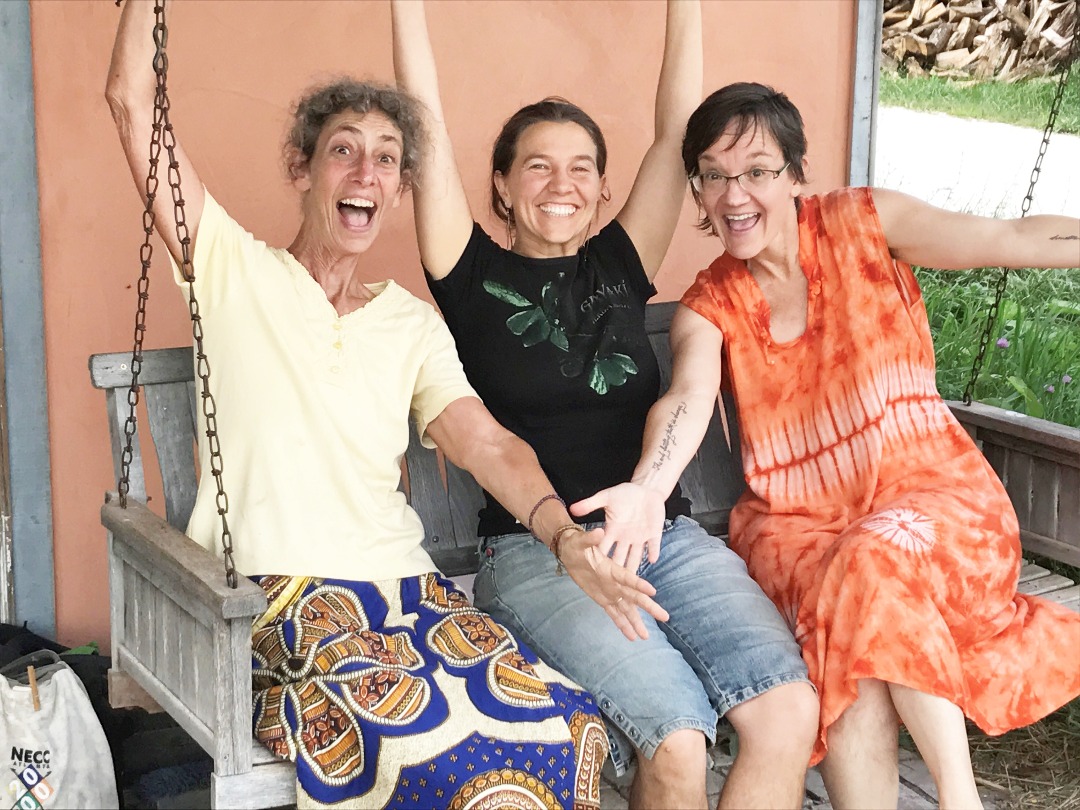 Give Yourself the Gift of a THRIVE Weekend Workshop with Laura Wolf at Dancing Rabbit Ecovillage
You're active, you're eco-conscious, you're doing what you can to make the world a better place. What do you do to keep yourself going, to sustain yourself as you seek to create a more sustainable world?
Here's an invitation to give yourself a well-deserved gift—to not just keep on going, but to grow and thrive!
Long-time friend of Dancing Rabbit, Frank Cicela, puts it this way:
"Over the past three years, I have been blessed to participate in several retreats that Laura Wolf has facilitated. Laura is a skilled, soulful, compassionate guide and facilitator. Among many other things, her toolbox includes: powerful music, conscious movement, years of breathwork practice, and sacred space—all accompanied with timeless wisdom.

Give yourself the gift of a Laura Wolf weekend!

Laura gently creates a safe space welcoming and nurturing to ALL of my parts—a playground for a soul. I strove to show up authentic, open and vulnerable.

Every. Single. Time. I showed up—I was rewarded with profound experiences and insights. Each time I was given a new lens by which to challenge my perceptions of reality.

Each weekend was a gift to myself—of transformation and growth—that is with me to this day."
Dancing Rabbit member Danielle Williams shared what giving herself this gift has meant in her life:
"Attending workshops with Laura was a true springboard for me. It launched me into a new phase of my relationship with my partner (a commitment ceremony!); a new job that offers more opportunity to unfold my inner genius and imbues me with a sense of purpose; and finally a relationship of acceptance with my community, as I began to show up more in integrity with myself and less focused on the shortcomings of the people and place around me. I'm not sure where I would be if I hadn't had this experience with Laura, but I know I would feel less happy and free and in touch with my innate potential."
Will you accept our invitation to give yourself this gift? Many THRIVE: Inner Sustainability for Healers, Leaders, and Lovers of the Earth Workshop spots are already filled with Dancing Rabbit members and friends who understand the value of this gift. Come join us!

P.S. Plus, if you register now, you'll save $125 off the regular price! There's no better time to say yes to giving yourself this gift.
---
Dancing Rabbit Ecovillage is an intentional community and nonprofit outside Rutledge, in northeast Missouri, focused on demonstrating sustainable living possibilities. Find out more about us by visiting our website, reading our blog, or emailing us (dancingrabbit
ic
org) .