Sustainable Community Living

Dancing Rabbit is an ecovillage and intentional community of about 70 people set amid the hills and prairies of rural northeastern Missouri. Our goal is to live ecologically sustainable and socially rewarding lives, and to share the skills and ideas behind that lifestyle.
About our vision and dream
Learn About Dancing Rabbit Ecovillage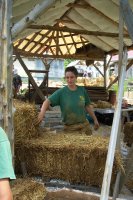 Dancing Rabbit is not a completed ecovillage – it's very much a work in progress. While in this pioneering stage, our lives are dynamic, often busy, and interesting. Daily life is different for each person who lives here, so it isn't always easy to generalize about life at DR. We've tried to include a lot of detail on our website about what it's like here and how that ties into sustainability. From the everyday needs of food and shelter to the more complex questions of culture and social change, we've tried to at least touch on the major points of our young ecovillage.
About life at Dancing Rabbit
Green Community Building in Progress

The new community building at Dancing Rabbit Ecovillage will set a new standard for ecological building. This 8700-square-foot passive-solar strawbale building will be certified LEED Platinum as well as meet the strict standards of the Living Building Challenge. This exciting project is essential in Dancing Rabbit achieving its vision of a 500-person pedestrian-scale village dedicated to sustainable living. Read more on the new community building's own website.
Want To Live At Dancing Rabbit Ecovillage?
We're excited to have new members join Dancing Rabbit Ecovillage and are interested in individuals or communities who want to create a sustainable culture. Here, you can have the experience of building your own home from the ground up in the company of other progressive individuals supporting each other in living an ecological life.
About visiting and joining
The Milkweed Mercantile Eco Inn Welcomes You!
The Milkweed Mercantile Eco Inn, our on-site bed & breakfast, is open for the season! Owned by two long-term members of DR, the Milkweed Mercantile offers comfortable accommodations, delicious meals, and workshops taught by members of Dancing Rabbit, all in a strawbale building powered by sun and wind. Hand-crafted pizza (with mozzarella and feta cheese made here at Dancing Rabbit) is served every Thursday, and a superb hands-on Canning Workshop is available throughout the summer. Learn more at Milkweed Mercantile website.
At Dancing Rabbit, we've cut our carbon footprint in half. Tony Sirna, a Dancing Rabbit founder, breaks down our carbon footprint and gives a few ideas on how to reduce our impact in our personal lives, our community, and even our government. He focuses on transportation, travel, home energy use, our food, and the goods we consume.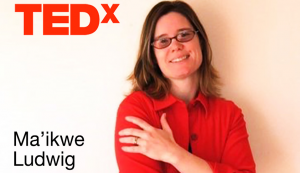 Dancing Rabbit Executive Director Ma'ikwe Schaub Ludwig presented a TEDx talk at Carleton College in Northfield, MN, on October 12th, 2013.
"Living A Sustainable Life Doesn't Suck. Really."
In this video she shows how Dancing Rabbit residents use less than 10% of the resources of the average American, while living rich, full, fun lives!
Watch Dancing Rabbit TV
See what goes on at Dancing Rabbit and learn building techniques at our video web blog. About DRTV (on our March Hare blog)
Come Visit & Experience Sustainable Living First Hand!
Are you interested in exploring whether Dancing Rabbit is the right place for you to create a sustainable life for yourself?  Learn more about our visitor program and consider coming for a 1-3 week visit.