Ecovillage Experience: Skills for Living Lightly
July 9-14, 2016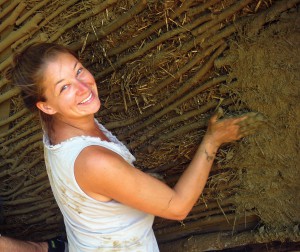 Spend 5 days with us at Dancing Rabbit Ecovillage and gather ideas, concepts, and skills for living lightly wherever you live. This course includes hands-on interactive opportunities with natural building, low-carbon gardens and kitchens, alternative energy systems, organic resource recycling, as well as permaculture design, alternative economic systems, skills for human connection and cooperation, and creative fun – all part of life at Dancing Rabbit! The course will also guide you to create a plan for bringing your learning home with you.
Skills for Living Lightly Course Sessions:
Tour of Dancing Rabbit Ecovillage
Natural and energy-efficient building (day-long hands-on project)
Food systems: growing, cooking and preserving local food
Recycling resources: compost, humanure, greywater
Alternative energy: solar, wind, and human power
Economics: cooperatives and Dancing Rabbit's alternative currency system
Communication and conflict resolution for cooperative culture
Introduction to permaculture design
Integrated Daily:
Cooperative decision-making
Communication skills practice
Opportunities for physical and spiritual practices
Fun/downtime
Accommodations
The course fee includes camping accommodations in Dancing Rabbit's wooded campground. Platforms for tents are provided, along with a composting toilet and access to showers in the Dancing Rabbit Community Building.
There are also some indoor accommodations available for an additional fee. The Milkweed Mercantile, our on-site eco-B&B, has lovely single and double rooms. To make reservations, contact the Milkweed Mercantile directly.
There may also be rooms in private homes to rent for the week. Email Sharon at education@dancingrabbit.org with questions or requests for indoor accommodations.
Food
Dancing Rabbit's eco-B&B, the Milkweed Mercantile, will be preparing all of the course meals – and really good food is their specialty! They can work with a wide range of dietary needs – just let Sharon know your particulars and we'll do our best to accommodate them.
Course Fee
The fee for the 5-day course is $750, which includes camping accommodations, food, and course materials.
Limited scholarship funds are available, so if finances are a barrier to your taking this course, please contact Sharon at education@dancingrabbit.org and we'll do our best to work something out.
Requests for scholarships must be received by May 9, 2016.
Experience our ecovillage! Register here for our 2016 Skills for Living Lightly course.