Ironweed Subcommunity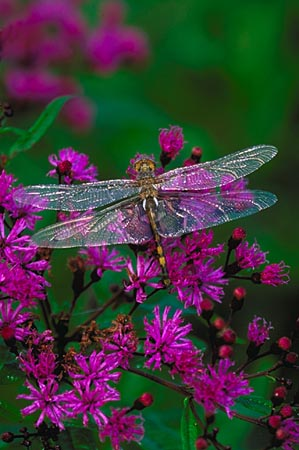 Ironweed Coop is a subcommunity of Dancing Rabbit.  Tamar, Ted and Sara joined forces in 2003 with the basic goals of starting a garden cooperative and a vegetarian eating cooperative (prior to Ironweed's founding all eating coops were vegan). Our numbers grew by one in 2006 when Sara and Ted had a child, Aurelia. Just as we were ringing in 2007, Alyssa and Bear joined Ironweed, and announced an anticipated child of their own come September. In our three-plus years, we've expanded the cooperative market garden twice, spent three seasons of work on building our kitchen, kept chickens for a couple seasons for eggs and tillage, inoculated mushroom logs, and are now planting our new orchard.  Along the way, we've developed some minor businesses surrounding vegetables and dairy products.  Long term goals include raising livestock, likely to include a small mixed herd of goats, sheep and alpacas, along with more chickens and probably some ducks; producing value-added products from the veggies and fruits that we grow; and growing to be a full residential subcommunity of maybe eight adults and some children, living in structures roughly surrounding our kitchen and a common house to be built in the future.  We also entertain the possibility of income- sharing in the long term, and are beginning a trial run at it in 2007 for one year.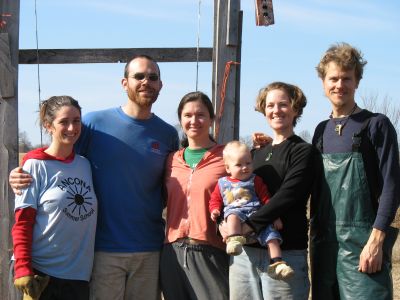 The six current members bring a diversity of skills to the coop, and share a commitment to mutual support, friendship, individual growth and cooperative labor as the best way to develop our dreams. We devote most of our time to gardening and building, our two primary pursuits, and find joy in pursuing a common endeavor that makes possible so much more bounty than any one of us could create alone.
Much of our garden is composed of raised beds built with a layering method that gives us good, friable soil to work with in an area where heavy clay soils are the norm.  We plant intensively, combining some elements of permaculture and bio-intensive gardening.  We acquired lots of fruit and nut tree rootstock in 2004, grafted them ourselves, and began planting them into our orchard in 2006. We plant extensively to perennials as well, and some of the trees live in the garden's north tier. Long-term orchard plans include planting herbaceous forage between trees as a means to provide balanced nutrition for our livestock through rotational grazing.
Our kitchen has been a three-year labor of love, but looks headed for occupancy by autumn of 2007. The building is a strawbale and cob hybrid, with bale walls to the north to bear the brunt of cold winter winds, and cob around the remainder to sculpt and make good use of our most abundant local resource, clay subsoil.  2004 saw us breaking ground in May and accomplishing the tasks of setting the foundation (rubble trench with dry-stacked urbanite and gravel bags above ground) and putting up the pole/timberframe roof and supporting structure by early December when we put it to rest for the winter.  2005 and 2006 were devoted to wall building and the porch and greenhouse framing and roofing. One end of the building will serve as a chicken coop (walled off from the living space), and the two-level floor plan, which flows with the ambient grade, includes a cool pantry and a loft for use as guest or new member space, as well as a greenhouse to the south for winter fresh vegetables and spring seed starting.  Finally, it will serve to house our shared solar power system and as a mount for four of our solar panels, the other four of which live on Ted and Sara's house.  The coop also employs a Whisper 200 1kw wind turbine.
Ironweed Kitchen summer 2004
We've enjoyed eating as part of Bluestem (or Blueweed, as it has sometimes been known) eating coop for several years, but look forward to occupying our own kitchen home at long last. We've all been involved in extensive building projects now, having built two homes and heavily renovated a third in addition to building the kitchen, and more remain on the horizon (including participation in a building workshop series planned for future seasons at DR); but we look forward to turning much more of our energies to the garden and orchard and developing value-added products using our produce, among other ideas.
If you're itching to learn about and participate in cob and strawbale construction in 2007, or feel a major twang of kinship with the other kinds of work we're doing, consider contacting us or visiting DR and lending a hand!