Cecil Scheib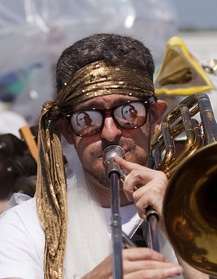 I began to dream of Dancing Rabbit on December 20, 1989. I didn't know yet that's what it was. But that was the day the seed was planted.
I was attending the University of Montana at the time and was flying back to my ancestral Maryland home for the holidays. I watched the snow capped Rockies from the air and was completely blown away. As an East Coast suburban kid, I had never seen anything like that. Then, we passed over the Midwest for hundreds of miles as I watched the chessboard of farmed plots slid by below me. Even the rivers ran in little short squared-off segments…a mile east, a mile south, a mile back east. It went on and on and on. That was the moment I really got it about how the sum total of the individual choices of millions of Americans has a huge, and very distinct, effect upon our continent. And it didn't seem right to me, that such a gigantic swath of North America should be so segmented by human use. When I saw it with my own eyes I decided to give up on the career in trombone performance I had been planning and do "something environmental" instead.
I transferred to Stanford University and got a degree in Civil Engineering—environmental and water studies. While at Stanford I had another formative experience living in a student co-op called Synergy. It really got me going about community life and I decided I never wanted to live any other way.
After graduation I stayed close with some of my Synergy friends, especially Dave (my old roommate at Syn) and his wife Frederique. The three of us founded Dancing Rabbit one day while trying to figure out how to demonstrate all sorts of cool eco-techniques, without running afoul of urban building, zoning, and health codes, yet also without getting bored and lonely out in the country by ourselves. If we could just have a bunch of people…heck, a whole darn village…that would do it! Now all we need is a name! We picked Dancing Rabbit, knowing we'd soon change it. That was 1992.
Once the idea of DR got off the ground I took off to travel around the country visiting communities and eco-projects to gain some skills and experience. Everyone told me not to try to start a village, but also gave me a lot of useful feedback to draw on. I spent a fall and a summer at Sandhill Farm and fell in love with northeast Missouri. The terrain, the wildlife, the topography, the vegetation, and the local culture all spoke to me right off the bat. I never thought DR would end up there because of the general remoteness of the place. But in the end, we decided to give it a shot and I never once regretted it.
I lived at Dancing Rabbit for about 12 years after we moved out there. While in Missouri, I was a Skyhouse member since its inception in 1996—the old Synergy spirit shining through. I helped found Skyhouse Consulting and installed several solar power arrays at DR. I particularly enjoyed making specialty food items like tofu, seitan, and homemade pasta, and for a while was DR's brewer-in-residence, churning out 13 gallons of homebrewed beer every other weekend and selling it for $1 or 1/8 DR Hour per bottle. I served as DR/DRLT Secretary/Treasurer from incorporation until 2007.
I immensely enjoyed the DR lifestyle, with its overlapping responsibilities and opportunities in many different areas. Still, every time I traveled to New York City to visit friends, I'd think: "I love New York City! I should live here some day." One wintry morning in Skyhouse it occurred to me: "some day" never comes unless you actually do something. So I upped and moved. I was attracted to the hustle and bustle of the big city, especially when I still didn't need a car, and to a place where I could play music all the time with different bands.
Within my first month in NYC in April 2007 I got a job as Director of Energy and Sustainability at New York University and did that for over five years. I had lots of great opportunities to help NYU be more sustainable, and during my time there, NYU cut its energy use by the equivalent of taking Annapolis, MD off the electric grid entirely! That just shows how much waste there must have been at the beginning, so one of my principal pieces of movement work these days is convincing people to set sustainability goals and meaningful targets instead of measuring progress by cuts from a baseline. My NYU responsibilities also included energy procurement, demand response, recycling, gardening/landscaping, and water conservation. I'm proud that NYU achieved an AASHE STARS Gold rating, including the highest Operations rating achieved by any university that submitted. Along the way, to aid in my work at NYU, I obtained my Professional Engineer license in the State of New York, and became a LEED Accredited Professional and an AEE Certified Energy Manager. I also became a GPRO Certified Trainer, teaching building supers and operators how to maintain and operate their buildings for greater sustainability.
In 2012 I moved to a new job as Director of Advocacy for the Urban Green Council (the NYC chapter of the US Green Building Council, who created the LEED green building rating system). Now, I am helping work on sustainability issues on a NYC-wide level. I do a lot of work making the codes and rules of city more conducive to lower-impact building. While I'll less of an implementer than I ever have been, I like that thought that I get to participate in decision-making on such a broad scale, and that I get to tell the stories about groups like DR and NYU that have done such great things.
Amazingly, my personal eco-footprint has not increased much since I left the village and moved to the nation's largest city! Something about the car-free lifestyle, I suppose; and the on-grid energy use, which I keep small, is balanced by the reduced shipping of goods by living next to the ocean. I serve on the Board of Director of a nonprofits arts organization, Spy Art Center. And I have been realizing my dream of playing with a bunch of bands, including the Hungry March Band, Sweet Soubrette, The Debutante Hour, and one I founded, Cobra Gold!. Best of all, I share a mini-community in a one-bedroom apartment in the East Village with my girlfriend (since 2009), Katya.
I'm constantly aware of the incredible presence of Dancing Rabbit in this world, as a beacon of hope, energy, information, and gumption to make the world a livable place for our grandkids and all species. I'm amazing by and grateful to all the wonderful souls that have come to visit, build, learn, and live at DR since its founding – and especially since I left. I've continued to visit Dancing Rabbit regularly, about once a year, and love it every time. And after several years focused on making a life in NYC, I have become reinvolved formally with DR as a member of the Board of Directors. Vive le Rabbit!