Bri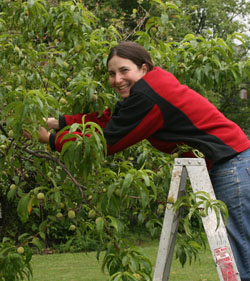 Hello!
I am from Des Moines, Iowa and have been visiting DR about once a year since 2000 when I met Tony and Cecil at the North American Students of Co-operation Institute. There are many things that have drawn me back to Dancing Rabbit over the past ten years. I like the ecological commitment, the participatory decision making structure, the energy of a young community, the DIY culture, the outreach aspectÖ I like that D.R. is not too far from my family in Iowa. I also like Skyhouse as a close-knit income-sharing community within a community.
My intro to cooperative living was through River City Housing Collective in Iowa City (1999-2003). While in Iowa City I got a BA in costume design. I quickly realized I was drawn to community theatre rather than professional theatre. My work in the housing cooperative was what I felt passionate about and I wanted to deepen my experience in community. I spent some time working as a special education teaching associate before touring five communities and subsequently moving to Twin Oaks Community (2003-2006).
At Twin Oaks (a 94 adult member, income-sharing community) I co-managed hammock pillow production and developed and managed the fabric-bed hammock production area, in addition to gardening and orchard-ing, providing child care, cleaning, cooking, packaging tofu, and of course weaving the occasional hammock. I also facilitated the "ecovillage team," trying to find ways to make TO more sustainable. Alex and I left, partly in order to pay off my student loan balance. Alex and I also desired to live in a smaller income-sharing community with a more ecological focus.
Additionally, I wanted to learn more about the rest of the world. Alex and I joined Peace Corps (2007-2008) and were sent to Niger, West Africa where we worked with subsistence farmers in the Sahel ("shore of the desert"). This was a challenging experience from which I continue to learn. I stay in touch with friends there who live on the edge of hunger. A 4-yr-old friend died during the famine there about a year ago. Some of my projects in Niger included building fuel-conserving clay stoves, teaching tree nursery management and tree planting, fruit-tree grafting, Sahelian Eco-Farm demonstration field, gum arabic harvesting, sesame cookie production, health education workshops… Health education felt the most rewarding, and after attending a birth and translating for an American midwife, I decided I wanted to pursue nursing and possibly nurse midwifery.
When Alex and I came back to the US we moved to the Des Moines Catholic Worker (2009-2010) while I took some science classes. The DSMCW provided drop-in hospitality 4 days a week and protested the overt and covert violence of our government – "works of mercy, acts of resistance." Then I went to Johns Hopkins in Baltimore for my RN, BSN where they had a Peace Corps Fellows program and offered me a scholarship. Alex and I lived in a similar community, called Jonah House (2010-2011) while I studied. I became a professional doula as my student job – work which I loved! I also worked as a public health nursing assistant at a domestic violence shelter; helping kids care for a community garden was part of my work there. I got a big scholarship from the gov't and need to fulfill a 2 year service obligation. So now I am working full-time as an RN at Scotland County Hospital.
In the future I hope to work part-time as a nurse outside of DR. My plan is to combine care of the broader community with care for those in DR. I'm joining the contagious illness committee, the care team, and the eco-progress committee; I'm also planning to contribute by taking care of the pond. I frequent the song circle and enjoy quilting. I also love gardening, dancing, tree care and identification, wildcrafting, yoga, Friend's meetings, bicycling and walking.