The Center for Sustainable and Cooperative Culture: Staff
The Center for Sustainable and Cooperative Culture (formerly Dancing Rabbit, Inc.) at Dancing Rabbit Ecovillage is the 501(c)3 nonprofit that manages our outreach and educational activities. Below is information on our key staff members.
Danielle Williams
Executive Director, Center for Sustainable and Cooperative Culture

Danielle Williams moved to Dancing Rabbit in 2012 after living at three other intentional communities in three different countries. She worked for the nonprofit as the Correspondent (handling general email and registration for the Visitor Program) from 2013-2016, and more recently as the Programs Director, overseeing the educational offerings of the Center for Sustainable & Cooperative Culture. She delights in living in a 213 sq-ft round house called the Hermitage, built by her partner Hassan. Danielle originally hails from the state of Colorado, and her skills are as diverse and varied as the places she's lived since then.  Her degree in Peace & Global Studies from Earlham College informs her vision of how ecovillages are part of a global movement towards creating a better world for everyone. She passionately continues to cultivate the world she wants to pass on to future generations.
Carolyn Bunge
Communications Team
Carolyn joined the Dancing Rabbit Staff in the spring of 2017. After nearly 30 years living on the Gulf Coast in Houston, she went on an adventure to find community with her husband and son. The extensive 5 month trip across the U.S. ended with the decision to call Northeast Missouri home. She lives with her family at a neighboring community called Red Earth Farms where they homestead on their leasehold they named Whimsyshire.
Before moving to Red Earth Farms, Carolyn was a high school history teacher. She has used her skills in writing and research, from her B.A. in History, to the benefit of her job here at the Center for Sustainable and Cooperative Culture and as a copywriter for JB Analytics. In her free time she likes to read, play board games, sew, garden, and spend time on her land. She lives in a 20 foot yurt close to nature spending her days doing the things she loves, with the people who matter most.
Collin Vickers
Communications Team

Vick joined as our correspondent in 2016. He also works in social media to promote causes related to progressive politics, social justice and the environment. In a past life, he worked as a chef in a Las Vegas casino. Nowadays he spends his spare time playing board games and writing creatively.
Burl Smith
Administrative Assistant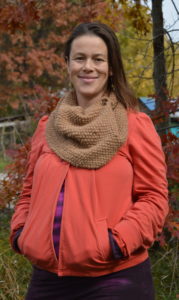 Burl has been the CSCC Administrative Assistant since July 2017. She moved to Dancing Rabbit earlier that year from a cohousing community in Oregon. Previous to that she and her family did extensive community touring around Oregon, northern California, the Midwest and South East to find a place that was thriving and connected. Her career background is in Restoration Ecology and Botany, and worked mainly in the grasslands of California and Oregon. She has B.S. in Ecology and Evolution from UCSB. She enjoys exploring and learning from all aspects of community living and living lightly and hopes to spread these lessons learned to the wider culture.
Kim Scheidt
Accountant
Kim Scheidt joined Dancing Rabbit staff in 2015 as co-accountant. She has worked part-time for the Fellowship for Intentional Community since 2006 doing non-profit accounting. Prior to that she worked as a Certified Public Accountant in San Antonio, TX after receiving her B.S. in Accounting from Truman State University in Kirksville, MO. Kim is a founding member of Red Earth Farms, an intentional community located near Dancing Rabbit. She lives at Dandelion—a sub-community of Red Earth Farms based on the ideals of simple living, permaculture, and feminism.
Brent Whistler
Technology platforms

Brent joined the team in 2016, as caretaker of technology platforms at Dancing Rabbit. He's also our assistant webmaster and assists with social platform management. Brent's background as a computer programmer and also in technical support management help him plug in wherever he's needed in Dancing Rabbit's technical environment. In personal time, Brent likes to garden, travel and learn about other cultures. He's a former Peace Corps volunteer who believes that mandatory social service in other countries would go along way to resolving conflict in the world. To follow his passion, Brent is now living in Nicaragua, working on building community there.