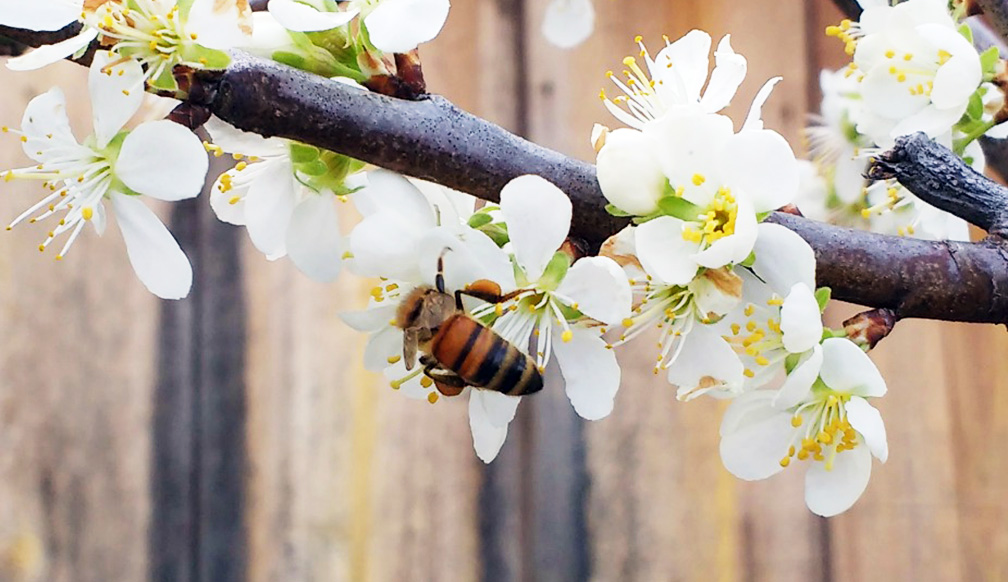 Moving at the Speed of Life: A Dancing Rabbit Update
Saturday's Metropolitan Opera broadcast was a performance of Richard Wagner's Tristan und Isolde. You know, the one with the famous wedding march that virtually all brides use to make their grand entrance. While listening I was observing the frantic activity of at least 14 different species of insects visiting my blossoming plum tree. Cob here, offering that unusual pairing as the foundation for my report on all the happenings at Dancing Rabbit Ecovillage.
I noticed that the many creatures visiting my plum tree each moved at different speeds as well. The honey bees were continually on the move, whereas some of the wasps worked over each blossom thoroughly. Some of the smaller flies jumped around even more quickly than the bees. They all came and went, each living at their own pace. With Wagner in the background, I couldn't help but compare their activity with my human experience.
The week began with wishing Uncle Kurt a very happy birthday, which he received with a mixture of appreciation and ambivalence that I'm beginning to understand myself as the passage of years seems to accelerate. It seems like just a short while ago I shifted the angle of my solar panels to better catch the winter sunlight, and it's already past time to lay them back for summer.
After a seemingly unending stretch of grey cold wet, my potted fig tree is happy to be back outside, and the first hints of green have already exploded and gotten the jump on my seedlings, which are taking their own sweet time sprouting. Fortunately many flowers aren't quite so shy, and the splashes of color provided by the forsythia, fruit trees, daffodils, hyacinth, and other spring bulbs is a sight for sore eyes.
Much like the bees, there have been many comings and goings among us Rabbits.  Alex was here for an overnight visit on his way back to Maryland; Katherine has returned for a few weeks at least before going back out for more activism work; Rae and Aaron are back from learning how to weld, and jumped right into updating the Mercantile's radio ad; Dorothy returned again (this time with a full moving van) before popping back to Kansas to finish putting her house on the market; Liz arrived to begin her residency; and Nathan and Tereza returned from their month-long sojourn visiting family and friends down Texas way.
Song Circle itself has been moving from house to house this month, with Rabbits traipsing over to Red Earth Farms this week. And of course folks from Red Earth and Sandhill have been over for work, play, or just visiting, as each person is inclined. There's probably much more, but this is what I've observed out my window, as I've been mostly focused on accounting and financial reports for tax season. I truly appreciate watching kids (young and old) running around, while I'm reconciling accounts. The slower pace suits me, and my contributions to the village seem so much more worthwhile.
A quiet pizza night at the Mercantile, with just a few friends and neighbors, was balanced by a busier and more raucous night of karaoke, masterfully DJ'd by Brent, with Aaron behind the bar providing lubricant. As with most things, we do karaoke differently too. While there was plenty of lovely solo work, we had some rip-roaring sing-alongs too. With so much laughter, those two hours passed in a flash. Clearly we will be holding karaoke nights on a somewhat regular basis, so long as Brent is willing!
Rabbits have also been busy reviewing and updating workshop content in advance of the first visitor session (which begins next week), and our two professional teachers (Sharon and Christina) led a training to help our workshop leaders become better presenters of their particular content. Sadly I missed that meeting, because gearing up for visitors also means larger bulk food and produce orders, and I was busy unloading the delivery truck and sorting folks' orders.
I'm know it's been mentioned before, but I must say how wonderful car-sharing and kitchen-sharing are for me. With so many opportunities to add to an already-full schedule, I can't imagine finding the time to deal with the inevitable vehicle maintenance issues or to cook for every meal. Collaborating in those ways has allowed me to participate in the Memphis Community Players upcoming production of Oklahoma!  My son Duncan has a great character role, and it's been a blast rehearsing already.
All of the busyness and activities of Dancing Rabbit Ecovillage, including our first public tour of the season, were much like what I observed in the plum tree while sitting in the warm sunshine listening to Tristan and Isolde's love story. Everyone is focused on doing their own things, but the music flows through and around, foreshadowing, reflecting, and connecting it all.
I learned that my father had been hospitalized this past weekend after the prep and anxiety of a regular procedure caused a cardiac issue to reveal itself. There's no crisis, and his symptoms have been resolved with the proper medications, but this really brought home how life continues to carry me in its flow. My son Morgan is soon to graduate from university, Duncan is coordinating his own senior portrait/photo shoot for his high school yearbook, and Ewan, my sweet youngest child, is officially bigger than me. When did THAT happen?
It's either ironic or suitably appropriate that our Village Council meeting on this Palm Sunday was on the topic of future burial grounds at Dancing Rabbit. Discussing the public/private boundaries, and all the other considerations that go into formulating policy for a small village or town, while striving to demonstrate sustainable living. For whatever combination of reasons, this week I am deeply aware that I am moving at the speed of life.
---
Save the Date! Just about a month from now, on May 11th, 2017, we'll once again be participating in Give STL Day! This "24-hour giving event with local impact" offers chances for your donation to our nonprofit to be maximized, with prizes and incentives throughout the day. We'll be sending you more information about it as the date gets nearer.
---

Dancing Rabbit Ecovillage is an intentional community and nonprofit outside Rutledge, in northeast Missouri, focused on demonstrating sustainable living possibilities. Find out more about us by visiting our website, reading our blog, or emailing us (dancingrabbit
ic
org) .